All Inclusive Holidays? NOOOT! 
Adventure traveling is not always glamour as you see often in social media. It has indeed a lot of exploration and finding amazing places, but most of the times it has a trade cost that most people are not willing to pay. 
And this is the biggest reason why my kind of travelling is not appealing for most of the people. It's not one of those holidays you walk-in in a travel agency and buy an All Inclusive week at the beach and you fly into a resort armed with a team of people to serve you limitless food and cocktails all day - and night - long.
My kind of travel is the one less planned. Normally I have only the first night booked and the last one before flying back home. And in between it's all about freedom and enjoying the flow. No plans. Going immersive with the adventure and just letting it taking me wherever.
But any plans at all?
Sure I do my homework and I have a clear idea of the places I want to visit. But if it's on the 2nd or 3rd day it's something I really don't know. And even the route to it, it doesn't matter. More to the left, more to the right, I don't care. I do care indeed about exploration and unveiling moments that you not fully control and are not expecting.
And most of the times this freedom and thrill pushes you to the limit. You and the machines.
It happens all the time. And it's normal.
My last trip to Namibia was no exception. During the first week of our expedition we arrived at Walvis Bay, a port town on the coast of Namibia. Sheltered by the Pelican Point sand spit, its tidal lagoon is home to abundant birdlife including flamingos, pelicans and Damara terns.
As it's obvious, we were not focused much on the city itself, but on the famous Pelican Point and all its wildlife. But to get close to them is really challenging. You need to drive on top of this unique stretch of sand and specially during the low tide, therefore letting you with a short window to arrive there and get out of there too (eheh adrenaline!)
We left early in the morning. It was cloudy and still fresh, the tide had just lowered a couple of hours ago, so the sand was still wet and hard (please no nasty laughs here ehehe).
We were driving and could see nothing but sand and clouds 360º around us. We knew exactly our position due to modern technology - thank you GPS! - but being conscious that we were driving far into the middle of the ocean was something that pumped our hearts.
This is nuts! But that's why we are here!
Any particular subject you would like to see explored more in depth in a future article?
Things were going amazingly well! A lot of wildlife and fun driving through many seals colonies and a lot of wild jackals - yes they are around in search of carcasses of baby seals. Child mortality rate in seals are quite high, and this is a perfect opportunity for the starving jackals. I confess it's a bit shocking to watch it for the first time - a landscape crowded of dead bodies - but soon you realise that this is nature on it's purest state and gradually you accept it.
back to the main subject

..so there we were, enjoying that great "driveway" when suddenly we crossed a section of very soft sand. 
Baduuuum TSSS!
Unexpectedly our heading car got stuck in the sand. We were only two 4x4s and I was driving the 2nd car. As soon as I saw the car in front of me struggling I stopped immediately - still in hard sand and capable of moving.
It was just a small strip of soft sand, as we could see wet sand ahead again. Nevertheless car number one was already into it. We tried everything but no success. We were officially bogged far into the middle of the ocean!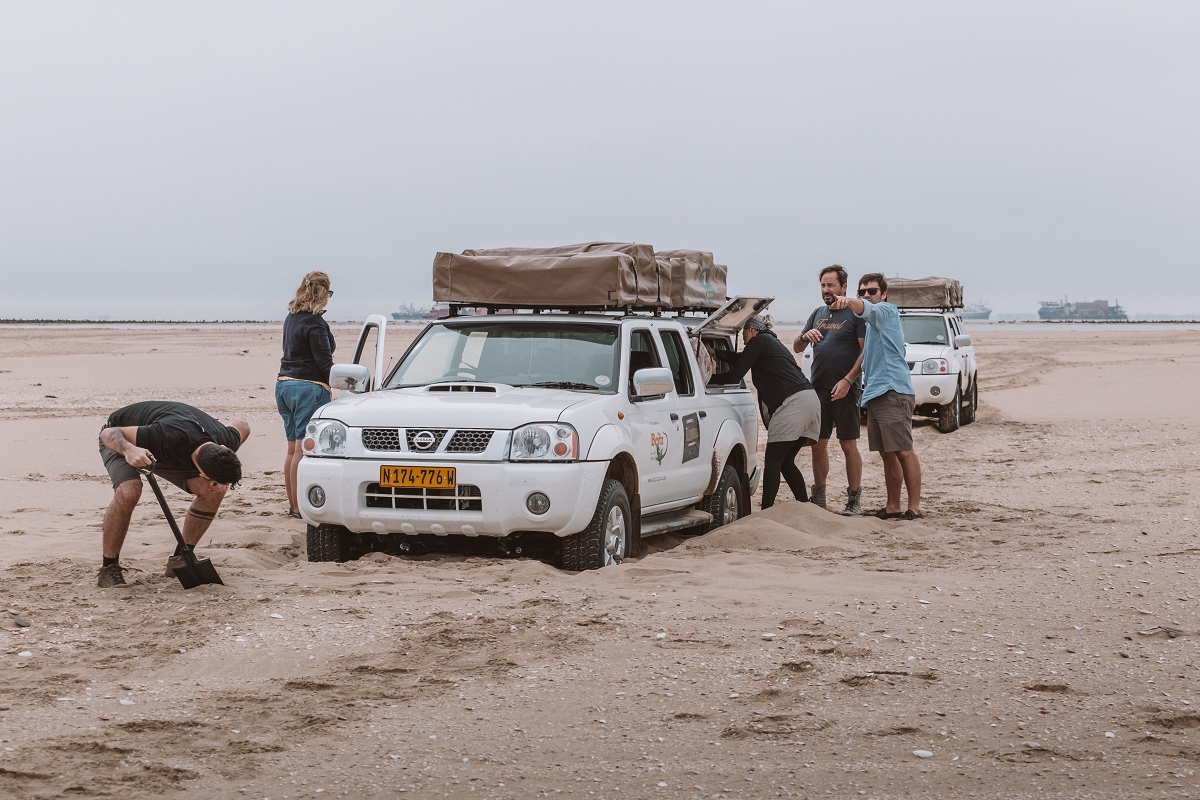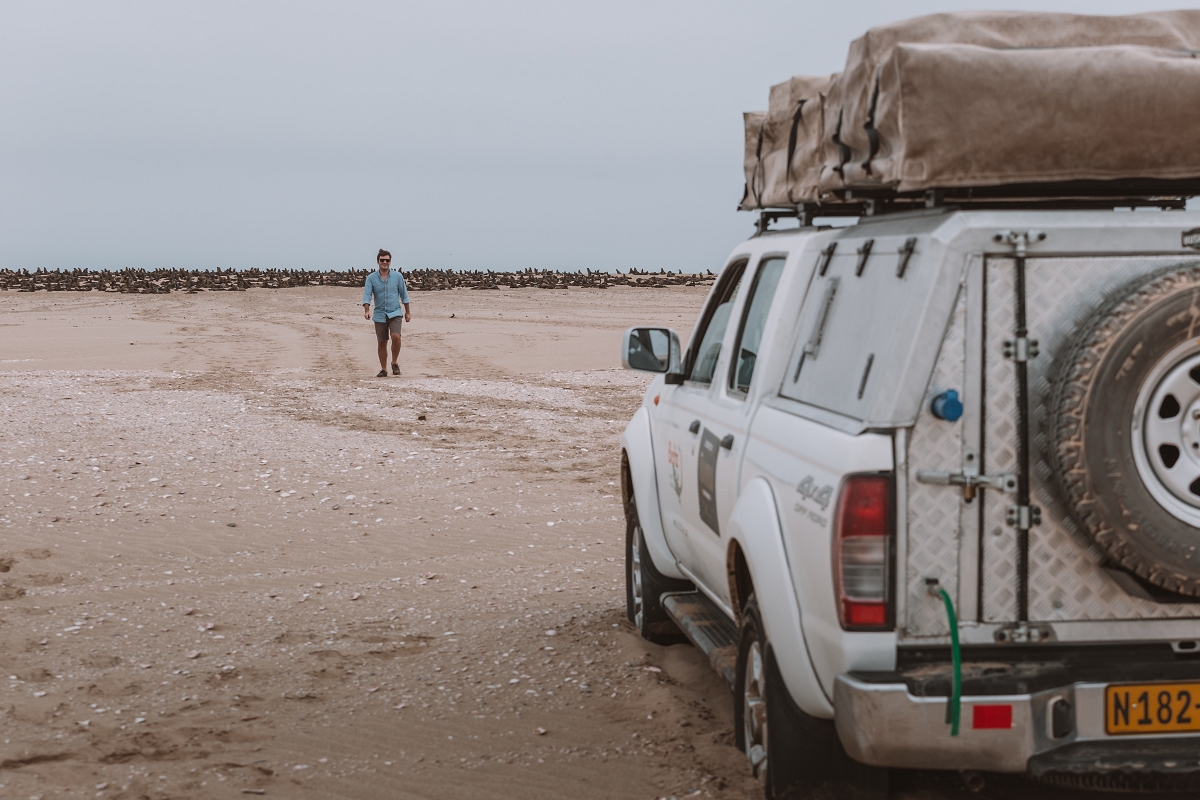 One for all, and all for one
Despite of several attempts, with the vehicle No 2 we could not reach the back of the stuck vehicle even with the straps attached together - they were a bit short yeah. So we decided to get some speed and cross the soft sand to the other side to try to pull the bogged vehicle from the front..
..needless to say that we got stuck too!
So now we had both vehicles bogged in the sand, side by side. GREAT! eheh
With the day evolving and the sun rising, the temperature started to warm up and the sand to be softer and softer. So it was getting harder to get the vehicles out of there.
Team work
The key thing on situations such this one is not to panic and keep calm. Analyse and think all the possibilities you have that might help you. It wouldn't be a major issue if we hadn't the time constraints due to the tide.
So we decided to put all the human effort into one vehicle at the time. One by one we rescued them both. We dug a lot with the shovels - and hands too. We used the vehicle mats as boards under the tyres. We collected debris that we found spread in the sand and used them as well. We pushed a lot. A LOT! And more A LOT!
But after - I would say - easily 2 hours, the first vehicle was back in safe land. AWRREYYY!
So now was time to repeat all the process for the 2nd vehicle. More digging, more pushing, more everything. Doing it under that - in the meantime - scorching sun, was a bit tuff.
As soon as we had both cars ready, we had to rush and leave Pelican Point. High tide was already building up, and in couple of hours that place would be underwater. Some of the lower areas had already water. We were driving full throttle out of there, and due to some speedy water crossing my vehicle swallowed a bit of it into the intake and lost most of its power - yeeeeahhh another issue!
Making the most of it
Soon we were back in the mainland, stepping solid ground and fixing the small issues on the vehicles, specially mine due to the water.
While we had some moments of suspense and stress, we managed to have loads of fun at the same time.
I confess that I love these minor mishaps!
It's from moments like these that you also evolve and grow as a person. We were on our own, completely isolated and in a such tricky situation. We had to keep ourselves calm and plan the best exit plan with clarity. No panic at all and managing fear. We had to work as a team and coordinate every one's actions to bring us to safe harbour in the most efficient way, meaning, as fast as possible.
We were wasted after 30min of digging on the sand, but we had to dig even harder internally to bring up all our resilience and perseverance.

And you know what? Similar episodes happen all the time. And it's normal!
- I could spend an entire evening telling you tons of stories like this-

Everyday you are presented with new challenges in adventures such this. And you learn a bit more every time.

I believe that all these learnings summed up, for sure are reflected on your daily life, on your job, friends and family. You'll be better dealing with difficulties. Adversity. Unexpected challenges. Challenges that are out of your control but you need to mitigate and overtake them. You'll be more resilient because you have been exercising it during your adventures. Your body won't strange anxiety - he will be already used to manage it.
And the fun side of it, is that soon you'll realise that you want more and more of it. You'll be searching for more mishaps. And won't be more of the same. You will be raising the bar. You'll be searching for harder challenges. This is the only way you widen your limits!
But be careful, soon it becomes an addiction. I am.
And you?
Would you see yourself on such adventure? What kind of traveler are you? Tell me all about in the comments bellow.
Share this article with someone you want to show how adventures can help you out to be a better person while having fun.
If you are not into adventure traveling but love photographs from these remote places on earth, check my FINE ART BOUTIQUE and Shop Now!